Malteser International Americas and St. Vincent de Paul Society of Rockport Distribute Life-Saving Cash Cards to Elderly and the Most Vulnerable in Arkansas County
Malteser International Americas, 21/09/2017
Distribution fills severe gaps in relief and helps families to regain their dignity in the wake of Hurricane Harvey.
ROCKPORT, TX- While much of the Hurricane Harvey relief has been focused on the Houston area, many vulnerable people in Aransas County, Texas, are still suffering and need critical relief. Today, Malteser International Americas, the humanitarian arm of the Order of Malta, began distributing $75,000 in life-saving food and fuel cards to help those people who were forgotten by the initial wave of Hurricane Harvey relief.
Among demolished homes and uprooted trees, Malteser International Americas, the St. Vincent de Paul Society, and the Diocese of Corpus Christi spent the day with economically disadvantaged families in Rockport whose lives have been shattered and livelihoods jeopardized even more by the disaster. The much needed financial support went towards the purchase of cash cards from the HEB chain of grocery stores to help vulnerable people and families to immediately purchase food and some of life's necessities lost in the storm.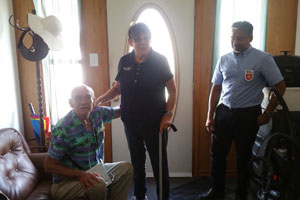 The food cards are helping people like Bradley and Carol Steiner to recover. Bradley is a Veteran with a pacemaker, who needs oxygen around the clock to live, and Carol suffers with severe pain of a bad hip surgery and can barely walk. Each month, they struggle to get by on his $500 Social Security check and her minimal income from Walmart.
When Bradley was given the cash card to help both he and Carol make ends meet in this difficult time, he expressed great gratitude for the help. "Thank you so much for the help. I don't have much left. God Bless people in organizations like Malteser International."
For many impoverished families, there is great dignity in being able to use a gift card to purchase food once again, or to buy their own personal items, such as underwear and hygiene products. For others, their basic needs are fuel to go to work to provide for their families, or something completely different.
"Rockport and the surrounding communities look like warzones after the storm and many people didn't get the relief they needed. The entire area will need the support of organizations like Malteser International for years to come," said Ravi Tripptrap, Executive Director of Malteser International Americas. "People like Bradley and Carol who were desperate before Hurricane Harvey are hurting even greater in Harvey's wake, and we are happy provide relief when others have forgotten them."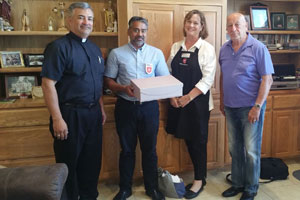 The gift cards will benefit the most vulnerable in the community first, including elderly people with health issues like Bradley and Carol, pregnant and nursing mothers, single women solely responsible for caring for themselves and the home, and people with disabilities. Relief will also be given to families who are poverty-stricken, and those who live in neighborhoods susceptible to future disasters, and who live in economically disadvantaged areas without access to public relief services, and well as people who lost their job or risk losing their job because of the disaster.
Malteser International Americas partnered with organizations, St. Vincent de Paul Society of Rockport and the Diocese of Corpus Christi, for their ability to quickly identify those who are most vulnerable and need the greatest help in the region. They are faith-based and boots-on-the-ground.
"Both Malteser International Americas and St. Vincent de Paul Society treat people with dignity. And after surviving such a tumultuous disaster and living off donations, the gift cards give mothers a chance to once again buy food for their children or get gas to refill prescriptions," said Patrick Ebarb, President, St. Vincent de Paul Society of Rockport. "It's a way for us to help them regain their dignity and bring some relief to this small community in dire need of help."
Aransas County was hardest by the Hurricane Harvey, after taking a direct hit from the storm's eye wall. Many homes and businesses in and near Rockport, Texas were damaged or destroyed. Roofs were blown off homes and buildings, and walls collapsed. According to damage assessments, 191 homes were destroyed and 209 homes were severely damaged.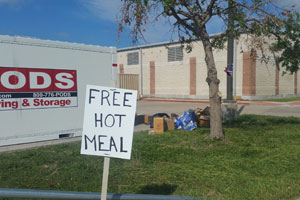 To help the community rebuild and continue to help devastated families recover, the Salt Lake Church Relief Center, a grassroots relief center in Rockport, also received $2,500 in support from Malteser International Americas today. The money will go towards repairs after Hurricane Harvey ripped the roof off and crumbled the walls. Not much more than a shell, the church serves as a relief and warm meal distribution center, and is run by a group of devoted local volunteers from the community.
"We all have an opportunity to do good things in life. And if we are fortunate enough, we are called upon to help others during their darkest times to help restore hope and dignity," said Major General (Ret.) Thomas A. Wessels, KMOb, President of Malteser International Americas. "Our relief efforts here in Rockport are real extensions of our own hands and those of our donors to devastated families, and by working together with these faith-based organizations we are making the greatest impact and helping those who need it most."
Malteser International Americas was also joined by a Dame from the Order of Malta Federal Association. The Federal Association has been on the ground responding to the relief efforts of Hurricane Harvey since the storm made landfall.
To support the disaster relief programs of Malteser International Americas, click here to donate today.